Before January 2019 when eBay released their new drop shipping policy it was allowed to sell on eBay and then source the products from other marketplaces like Amazon, Walmart, Ali Express etc. Not only that it was allowed, we at DSM Tool had a personal account manager for our customers in eBay offices dealing with Amazon to eBay dropshipping sellers.
Then, in 2019 eBay released a new drop shipping policy that put product sourcing from suppliers like Amazon against eBay's terms of service. I then got a call from the account manager in eBay's offices, she has been promoted – but no one is going to replace her. If you are dropshipping on eBay from another website you are probably going to get the "eBay Selling Practices" email within the first few months from when you are starting to sell on eBay.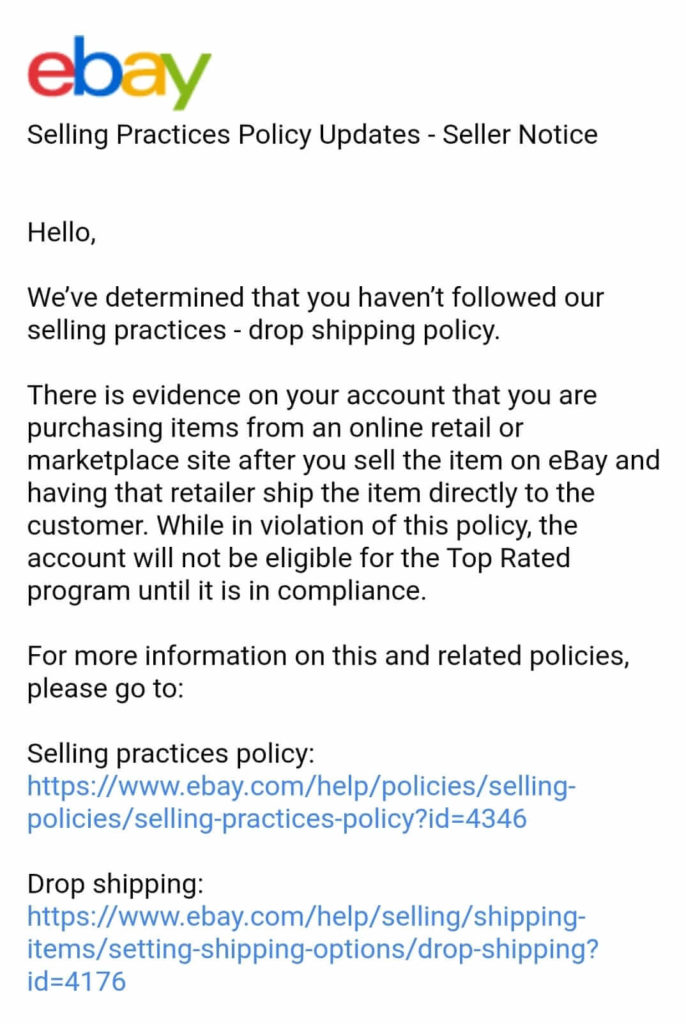 If you are considering starting a dropshipping business, I hope that this article will clarify to you the gains and risks of that business model. Thre is a huge opportunity awaited for you when you decide to start dropshipping on eBay using retailers and marketplace such as AliExpress, Home Depot etc. But in business, inevitably, together with every great opportunity, comes at least some risk.
In this article, you will find the answers to the following questions:
The eBay Drop Shipping Policy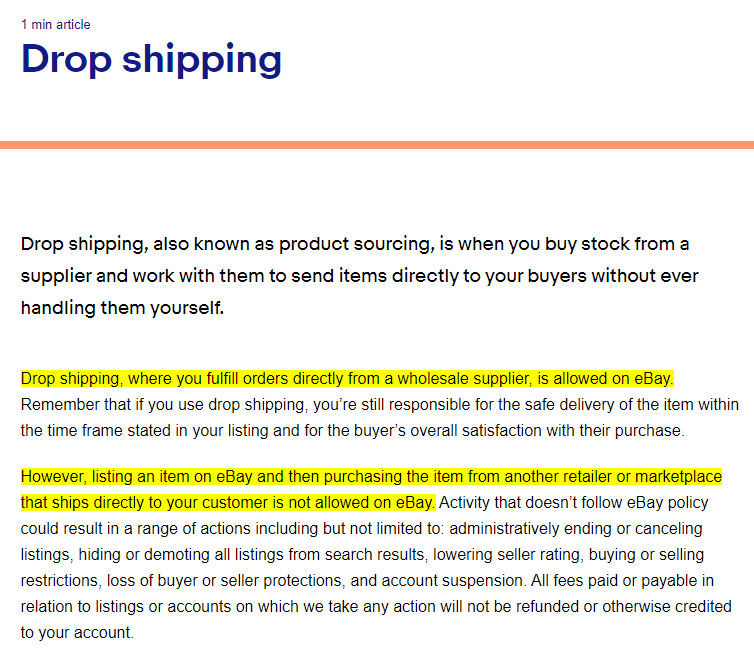 The new eBay dropshipping policy that was released at the beginning of 2019 starts by defining the term "dropshipping". It says that drop shipping is when you buy stock from a supplier and then work with them to ship the good directly to your customers. Defining the term dropshipping might sound irrelevant, but remember that only a few years ago the term did not even exist.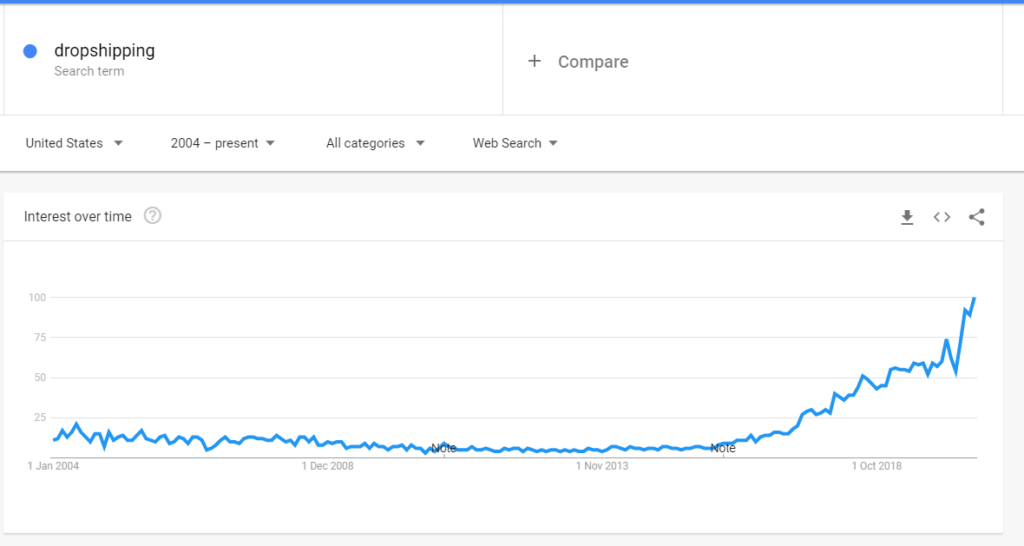 Wholesale Dropshipping Is Allowed According To eBay
The dropshipping policy continues by specifying the dropshipping activities that eBay allows and doesn't allow, starting with what are you allowed to do when dropshipping on eBay. It says that drop shipping, where you fulfill orders directly from a wholesaler supplier is allowed on eBay. They even marked this sentence in yellow, to emphasize it's importance.
What Are Wholesale Suppliers For eBay?
Just as much as the term dropshipping is relatively new to the world, so does wholesale dropshipping. If you are dropshipping or considering to start, it is important to get familiar with all of the different types of terms used to describe what are wholesale suppliers in eBay dropshipping.
First, some consider only wholesale suppliers that you purchase inventory from would count as legit. This is probably the most accurate definition according to the first sentence in the policy. A good example of that is the service CJ Dropshipping offers that allows you to make an inquiry, buy stock, and have it stored. CJ's then process the orders for you, drop shipping directly to your customer.
Second, some consider suppliers that you don't buy inventory from rather get in a contract with as wholesale suppliers. There are different ways to get in a contract with such suppliers depending on which country you operate in. For example, if you are selling to the US market you will need to first get a reseller certificate, then contact suppliers you find in directories, then get in agreement with them. It costs less than buying an actual inventory, but it's a hustle no doubt.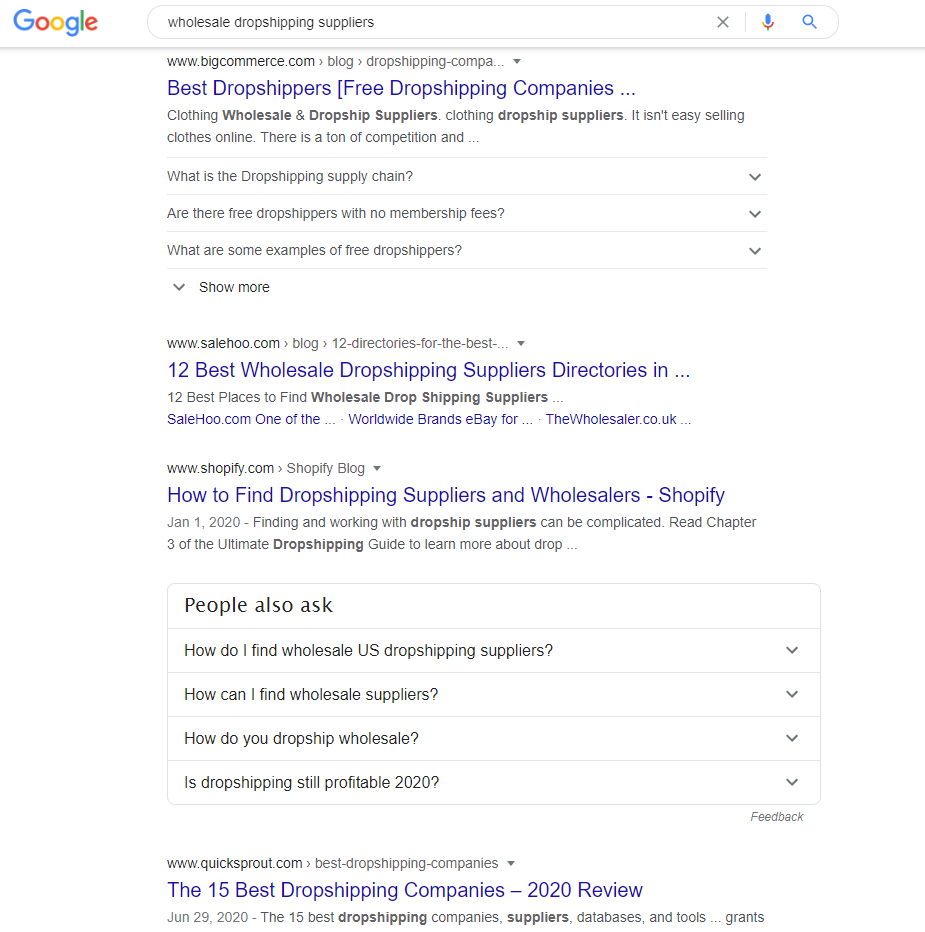 Last, many including me consider wholesale suppliers for eBay dropshipping as the two types mentioned above plus what I call dropshipping friendly suppliers. These are suppliers like Banggood, China Brands, Costway, and CJ Dropshipping.
All of which just online websites used as dropshipping suppliers you can purchase from and ship the products directly to your buyers, but unlike retail suppliers they are oriented to dropshippers. They send the goods in "dropshipping friendly" packages with no invoices nor branding of other retailers (as opposed to Amazon, Walmart and Home Depot that ship the goods in branded packages).
Dropshipping From Retailers And Marketplaces Is Not Allowed On eBay But It Is Still Working
The policy continues by explaining what is not allowed on eBay: Listing an item on eBay and then purchasing the item from another retailer or marketplace. When I first read this sentence I thought that my business, the eBay dropshipping software DSM Tool, was sentenced to death.
But that is not the case. While eBay could have stopped dropshipping from other retailers completely, as you are about to find out, they chose not to do that. Instead, it seems more like with its policy eBay is warning dropshipping sellers that they have to work more ethically, provide excellent support to their buyers and create value to the eBay platform in order to generate sales.
Moreover, even after the policy released you can still run an eBay dropshipping business using retailers as dropshipping suppliers. As long as you keep the account metrics in good health, you should be fine. As long as you understand that dropshipping from retailers has its limitations and to further grow you will have to eventually also start sourcing from wholesalers – you are at low risk.
Having said that, I don't want to create a false image here. Dropshipping from retailers on eBay is quite literally against its policy, meaning that by choosing to do it, you are taking some sort of risk. It's a small risk in my opinion, but I don't when I see people in the dropshipping community that has the interest to "sell dreams" trying to hide it. I think it is probably one of the best ways to get started with an online business today.
So what exactly happens when you do choose to dropship from retailers? If others and I claim it's such a great business model even after the release of the new drop shipping policy, where is the catch?
What Are eBay Flagged Accounts
Flagged accounts are eBay stores that their owners got the selling practices policy violation email. These stores are going to be affected in a few ways: first, they are losing the option to get ranked as top-rated sellers on eBay. Second, they sometimes get reduced visibility in once of eBay's features called Promoted Listings. Still, there is a way to make great money working with an account that got flagged by performing great market research and optimization.
The eBay Selling Practices Email Explained
This email is sent to everyone who is dropshipping on eBay and sourcing their products from other retailers or marketplaces like Ali Express, Amazon, Home Depot, etc. Below is the full content of the email
Subject: Your Top Rated Seller status will be removed: Selling practices – drop shipping policy

Your Top Rated Seller status will be removed: Selling practices – drop shipping policy

Hello, We've determined that you haven't followed our selling practices – drop shipping policy therefore, we will be removing your Top Rated Seller status until your account is in compliance with the policy.

There is evidence on your account that you are purchasing items from an online retail or marketplace site after you sell the item on eBay and having that retailer ship the item directly to the customer. This is a violation of the terms and conditions section of our Selling practices policy, which states:

·Items you list must be in your inventory or you must have an existing agreement with a third party to fulfill the delivery of the item under the terms of your listing.

For more information on this policy, please go to:
Selling practices policy
Drop shipping

Regards,
The eBay team
The email was is sent also to sellers who aren't at all ranked as top-rated sellers, which is quite weird indeed. If you get it that means your account is "flagged" and that you are not eligible for the status as long as you practice this type of dropshipping. How bad is that? Not so much, in my opinion, let me explain why.
The Top Rated Seller Status Is Not Important For Dropshipping
The eBay top-rated seller status is a luxurious status among eBay sellers in general. Top-rated sellers are far more likely to generate sales for two reasons. First, customers that see a top-rated seller are more likely to trust the seller and make the purchase. Second, top-rated sellers tend to appear higher in the search results of eBay, the status is gaining them organic traffic.
By choosing to run a store using the dropshipping model, you are giving up on the option to become a top-rated seller. But it doesn't matter, and here is why: unlike any other seller on eBay you, as a dropshipper, are able to replace your entire inventory within a click of a button. By not holding stock you can continuously find opportunities for products to sell, by performing market research and sourcing cheap products from reliable dropshipping suppliers.
eBay Promoted Listings Might Get Affected As Well
The concept of eBay flagging accounts started in the middle of 2018, before even the dropshipping policy was released or any of these emails were sent. Dropshippers in the both the DSM dropshipping community and other online business communities started reporting a drop in the number of views they generate using the feature on eBay called Promoted Listings.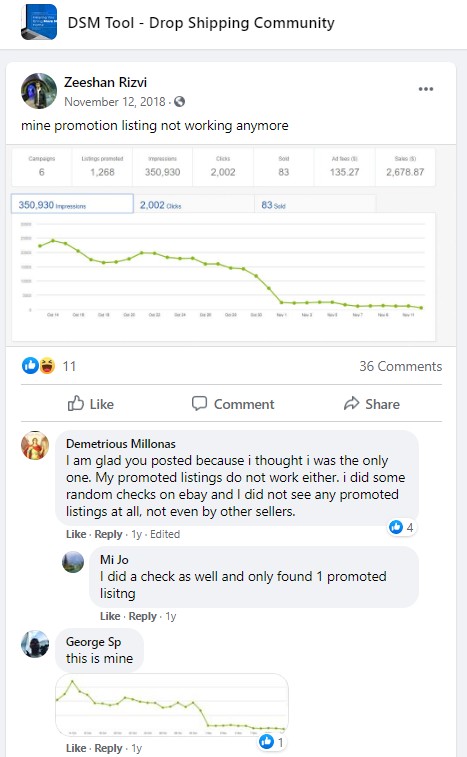 What Are eBay Promoted Listings
If you want to generate sales, you need to get potential buyers to see the products you offer. When selling on eBay there are a couple to ways to get your products in front of potential buyers and generate sales.
Optimizing the listing to gain organic traffic using eBay SEO techniques
Using the eBay Promoted Listings feature
Advertising the products yourself
I don't know any eBay dropshipping sellers that are paying for advertising their products, this is usually done when you build your own store using a website builder like Shopify. The promoted listings feature allows you to offer eBay a fee so that they in return will advertise the products for you. For example, if you set it up to 20% and then eBay advertise the product for you and generate you a sale directly from the ads, you will pay 20% fee from the purchase price for the promotion.
I think the reason eBay dropped the promoted listings views for eBay dropshipping sellers was not a deliberate action against the dropshipping community rather an algorithm change. I personally think it was just because promoting products that are generally priced higher than their price on other websites was not profitable for the eBay advertising team. They probably have made changes to their algorithm and these products were "flagged" as not-profitable for advertising.
Is that the truth? I don't know, no one really does, all that we all know for sure is that using promoted listings for eBay dropshipping is no longer what it used to be. This leaves us with one last channel of traffic: the organic traffic of eBay SEO.
How To Generate Sales With eBay Flagged Accounts
Search engine optimization or SEO in short is a method in which you are optimizing the eBay listings before you add them to your store. When you source products using software like DSM Tool you import the information of the product from the source site, let's say Ali Express, then you perform optimization:
Editing the title using keywords from a keywords research
Filling up missing item specifics
Optimizing the main image
Finding more imaged and creating collages
Using an eBay template for in the product description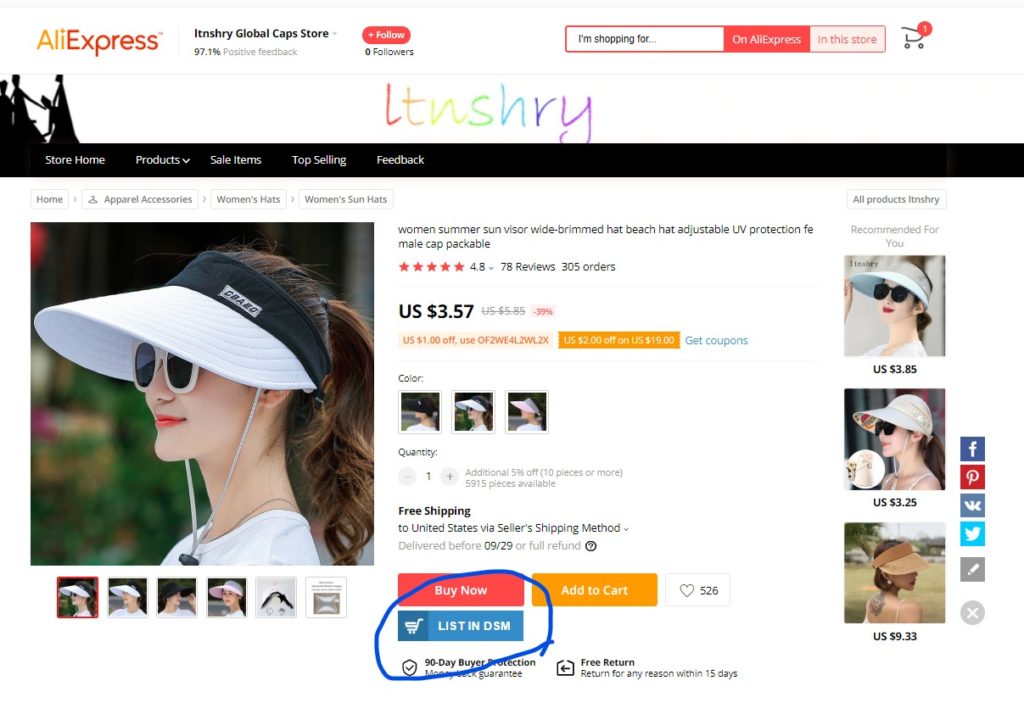 These optimizations, together with the understanding of how to find products for eBay dropshipping and how to choose cheap yet reliable suppliers are the key to continue generating sales when dropshippign on eBay.
The idea is quite simple: as long as you can generate value to the eBay platform than even without the promoted listings feature and without the top-rated seller status you will still generate organic sales. By doing good market research, reducing the costs (by sourcing from cheap and reliable suppliers), and optimizing the listings before publishing them you do just that.
Another theory that came up at the time of releasing the dropshipping policy was that the reason eBay dropshipping accounts were getting flagged it that these accounts are being managed by using software. That is not only false but also a risky claim that can cause harm to your account.
Manual eBay Dropshipping and Non-API Software
Manual eBay dropshipping or the use of a Non-API eBay dropshipping software is a very risky method to run an eBay dropshipping store. Moreover, in my opinion, the fact that in some eBay dropshipping software companies developed such features is an irresponsible decision of theirs. In the video below I discuss the development of this myth around eBay dropshipping software.
In the video, I refer to the phenomenon of the eBay promoted listings visibility drop that happened in 2018. I feel like new people who are interested in eBay dropshipping in 2020 are not always being told the truth. I hope you find this overview valuable and I appreciate it if you share it with others when you see discussions in the subject.
Some of the people that are avoiding sharing the complete honest picture about dropshipping on eBay nowadays also happens to be the ones that are engaged in the illegal activities that are happening in the industry.
Is Dropshipping Illegal
Dropshipping is a method that is completely legal because the term dropshipping refers to how you process the order once you made a sale. But just like in every industry, from the weapons to the pharmaceutical industry, there are both legal and illegal activities you can engage in when running a business. That happens also in the industry of using the dropshipping business model.
eBay dropshipping from retailers is also legal. When your store does not comply with the eBay dropshipping policy it doesn't make your activities illegal, it is just against eBay's policy. A corporate the size of eBay would not allow illegal activities to happen with no response, they would shut down and report to the authorities every account they flag. It seems like flagging dropshipping accounts is more of an alert to the sellers: "you guys better give a remarkable experience to the eBay customers or you're out".
Illegal Activities In eBay Dropshipping
The illegal activities that you might be offered to get involved in, directly or indirectly, are:
Buying highly discounted gift cards from the black market using Bitcoin or other cryptocurrencies (for example Amazon gift cards)
Building a network of multiple un-linked eBay stealth accounts and duplicating listings between them
Using fake identities to run eBay stealth accounts
Buying fake watchers to your eBay listings to promote it in the eBay search results
Using fake UPC numbers in your listings to avoid competition analysis
An easy way to recognize people who are engaging in some of these illegal activities is when someone tells you that they own multiple eBay stores (30+ eBay stores for example). Typically, these are all fake-identity stealth accounts managed on remote desktop computers. There is no way that small businesses like an eBay dropshipping store would need more than one eBay store when big companies like Overstock own one single eBay store.
I can't tell you whether to engage with these illegal activities or not. After all, it is your business and your decision. I personally do not engage in it, will not promote it, and do not teach about it in my eBay dropshipping course. Instead, I prefer to talk to you about how to safely and legitimately dropship on eBay
How To Avoid Suspensions When Dropshipping On eBay
To keep your eBay store safe you have to keep high standards of account health. By finding the best products to sell you run make sure your business will run and make money. But there are more factors that ensures your eBay dropshipping business safety levels that you need to take care of if you want to keep it running it for the long term.
Maintain The eBay Seller Level Metrics
To make sure your eBay account is in good health, monitor the seller-level metrics and mantain them.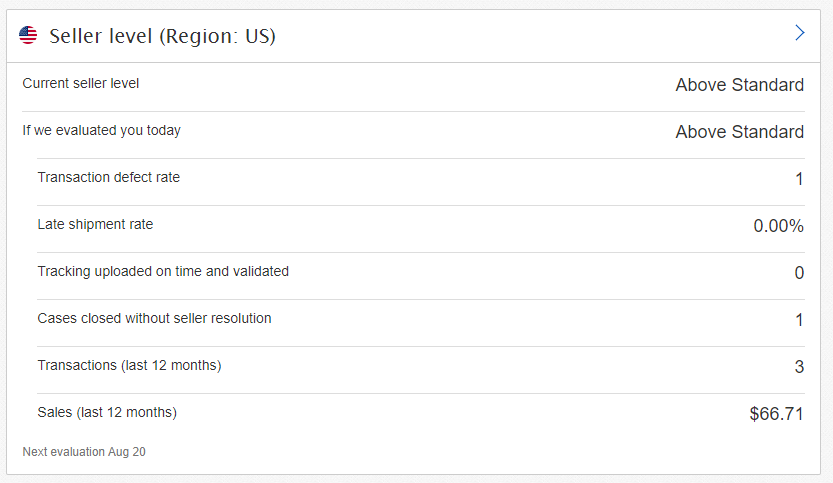 Avoid late shipments: make sure the supplier is shipping the products within the time stated in your shipping policies. If you are drop shipping from Ali Express, for example, offer economy/standard shipping and use ePacket as a shipping method. Better to surprise the customers with early shipments than surprising them with late shipments.
Avoid defect rates by not canceling transactions due to items being out of stock. Look for the same item from another supplier or offer the buyer a similar item before canceling the order
Avoid defect rates by always answering cases that buyers open on eBay and PayPal.
Avoid cases closed without seller resolution by always looking after your customers, even if sometimes it costs you in losing on some deals, even if it feels unfair.
Update tracking numbers on time according to the time you set in the handling time in your shipping policies. For example, if you set 3 days handling time that means that from the moment you made the sale you must update the tracking number within 3 days.
As a business owner, no matter what online business you run, you might encounter cases where if feels unjust to pay the customer back. You might encounter technical issues that cause you to sell for a price that is lower than the cost of the product on the supplier website. Remember that as a business owner that's part of the risk you are taking when you start a business.
Don't try to manipulate the system, that would push your account towards the "below standard" seller tank. This would harm the overall traffic you listings are gaining organically.
Provide an Excellent Customer Support
Make sure you are very responsive, try to build a routine of answering customer buyers on a daily basis. Don't only answer your customers before they make the purchase but also maintain communication with your buyers after the sale. If you are using DSM Tool make sure to automate the post-sale messages to automatically increase the eBay feedback rate of your account
Avoid Selling VeRO And Restricted Items
Get familiar with the eBay restricted items section. It is honestly impossible to follow these policies by 100%, it's just way too general. But read at least a few of them to get familiar with the essence of how eBay wants you to act as a seller in their platform.
Avoid selling products from brands that are part of the eBay VeRO program. You can use the DSM Tool rapid lister to avoid selling VeRO products on eBay.
Conclusion
Remember the main takeaway of the eBay dropshipping policy: you are responsible for the safe delivery within the time frame you stated in your listings and for the buyer's overall satisfaction with their purchase. In bold, I marked the most important thing that I think eBay was trying to

eBay dropshipping holds a huge opportunity. It's one of the easiest ways to start an online business and it's a very low-risk business model. But like every business, it comes with its own complications and requirements.
If you are considering starting a dropshipping business I hope you find this article reliable and truthful and that you choose to share it with others who are looking to start a dropshipping business and might be worried about the eBay dropshipping policy.
SourceTagged with:
droppshipping
•
eCommerce
•
make money online