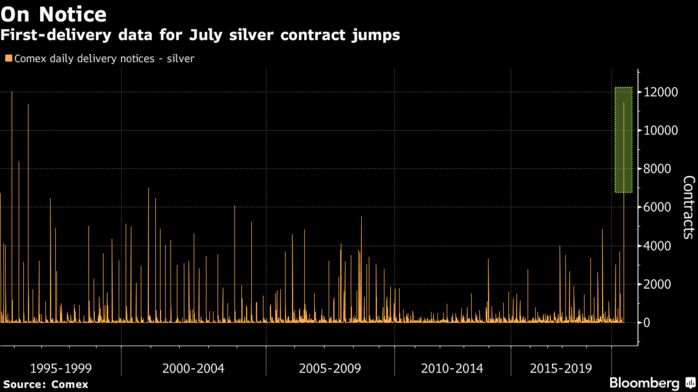 ◆ Physical Demand Supply Imbalance Spreading from Gold to Silver and Platinum and Prices To Gain
◆ 'Chaos' in gold markets ripples to silver and platinum markets
◆ Silver, platinum exchange physical bar deliveries surge as banks reposition
◆ Falling open interest signals increase of metal on CME exchanges as turmoil causes inventories to jump amid efforts to meet the shortages

via Bloomberg
The chaos that engulfed the gold market in March as the global pandemic choked off physical trading routes is rippling through other precious metals, resulting in price dislocations and a surge in exchange inventories for silver and platinum.
The gold market was thrown into turmoil in March as lockdowns grounded planes and closed refineries, leading traders to worry they wouldn't be able to get gold to New York in time to deliver against futures contracts. That caused futures, which typically trade close to the London spot price, to soar to a premium, inflicting losses on banks that struggled to close arbitrage bets and spurring them to shift some positions out of New York futures.
There are signs that the dynamic isn't limited to gold. Silver and platinum futures have traded at elevated levels relative to spot metals since early April. And as in the case of gold, the premiums are spurring big increases in on-exchange inventories in New York.
On Monday, first-notice data for the July silver contract on the Comex in New York showed the largest single day of deliveries in almost 25 years. Deliveries for platinum on the New York Mercantile Exchange were more than five times the next largest month this year.
Those deliveries serve as a way for banks to reduce their exposure to price dislocations and limit risk, said David Holmes, a senior vice president at Heraeus Metals New York, a precious metals refiner.
Full article via Bloomberg
NEWS and COMMENTARY
Gold Gains 16% with an 8 – Year High: Why It Will Continue to Rise
PRECIOUS – Gold ticks higher as virus fears counter gains in equities
Asia shares jump as China blue chips scale five-year peak
One fifth of German firms fear for their survival
Indian man wears gold face mask to ward off coronavirus
Cutting dollar from gold sparked pernicious changes
'Capital Markets Are Not Free': Billionaire Investor Ray Dalio Says the Fed Is Boosting Asset Prices, Valuation Metrics Don't Apply, and the U.S. Dollar Is At Risk
GOLD PRICES (USD, GBP & EUR – AM/ PM LBMA Fix)
03-Jul-20  1774.65 1772.90, 1426.29 1422.40 & 1580.33 1577.70
02-Jul-20  1771.85 1777.45, 1415.00 1421.60 & 1568.97 1577.13
01-Jul-20  1787.40 1771.15, 1444.90 1424.63 & 1592.93 1574.82
30-Jun-20 1770.70 1768.10, 1444.18 1436.58 & 1580.35 1577.32
29-Jun-20 1768.80 1771.60, 1434.67 1440.31 & 1571.23 1573.54
26-Jun-20 1762.10 1747.60, 1420.61 1414.51 & 1570.03 1559.91
25-Jun-20 1758.55 1756.55, 1412.64 1414.73 & 1565.29 1565.79
24-Jun-20  1775.70 1766.05, 1420.74 1416.90 & 1573.63 1567.55
23-Jun-20  1755.60 1768.90, 1409.85 1416.36 & 1556.17 1560.70
22-Jun-20  1745.45 1761.85, 1405.26 1418.11 & 1555.72 1567.17
19-Jun-20  1728.55 1734.75, 1392.17 1401.16 & 1541.18 1545.49
18-Jun-20  1732.65 1719.50, 1384.73 1383.51 & 1539.29 1532.93
17-Jun-20  1717.30 1724.35, 1368.69 1375.17 & 1527.88 1537.26
Own gold coins and bars in the safest vaults in Zurich, Switzerland with GoldCore. Learn why Switzerland remains a safe haven jurisdiction for owning precious metals. Access Our Most Popular Guide, the Essential Guide to Storing Gold in Switzerland here
Receive Our Award Winning Market Updates In Your Inbox – Sign Up Here
The post Silver and Platinum Bar Deliveries Surge As Banks Take Delivery appeared first on GoldCore News.
Source
Tagged with:
CURRENT GOLD PRICE
•
GOLD PRICE INVESTMENT
•
MAKE MONEY GOLD
•
PRECIOUS METALS