When starting a business, the bookkeeping part of it can often move to the back burner because you feel like your business doesn't have enough transactions to justify an accounting software or tax time is months away. There's simply no pressure to get something in place.
If this is you, Xero is the perfect accounting software for your business. No, Quickbooks isn't the only name in the game! Many other accounting system options for small businesses are emerging on the market and gaining traction because of their ease of use, beautiful user interfaces, and affordable pricing options if you only "need a little."
Xero was founded in 2006 in New Zealand and has grown so much that it now has over $2M subscribers around the world. Xero's mission is wanting "millions of small businesses to thrive through better tools, information, and connections," and they do this by focusing on innovation, like having access to real-time information on mobile devices and seamlessly integrating with over 800 apps.
I decided to put Xero to the test. I'm a CPA who works in corporate accounting with 10 years of experience, so I can navigate my way around accounting software, but I'm used to large ERPs like SAP and Oracle, so this was a new experience for me. My mother has a small business doing real estate photography and was getting to the point where she needed a more sophisticated way to keep track of business transactions besides a simple Excel spreadsheet I had made for her a few months back. She heard that Xero communicates well with a scheduling app she has on her website and wanted to give it a try. Xero has a free 30-day trial, so she signed up, and I took the reins.

Overall Pros and Cons
As I went through the process of finding my way around Xero, I noted the following pros and cons, which we will dive into shortly.
What I like:
Tutorial videos embedded in almost every area of Xero
Seamless bank reconciliation process
Robust operational and financial reporting
What I don't like:
Extra fees for payroll services
Weird contacts database
No phone customer service support and long wait times for responses
Pricing
Xero offers three different plans:
Early for $9/month
Growing for $30/month
Established for $60/month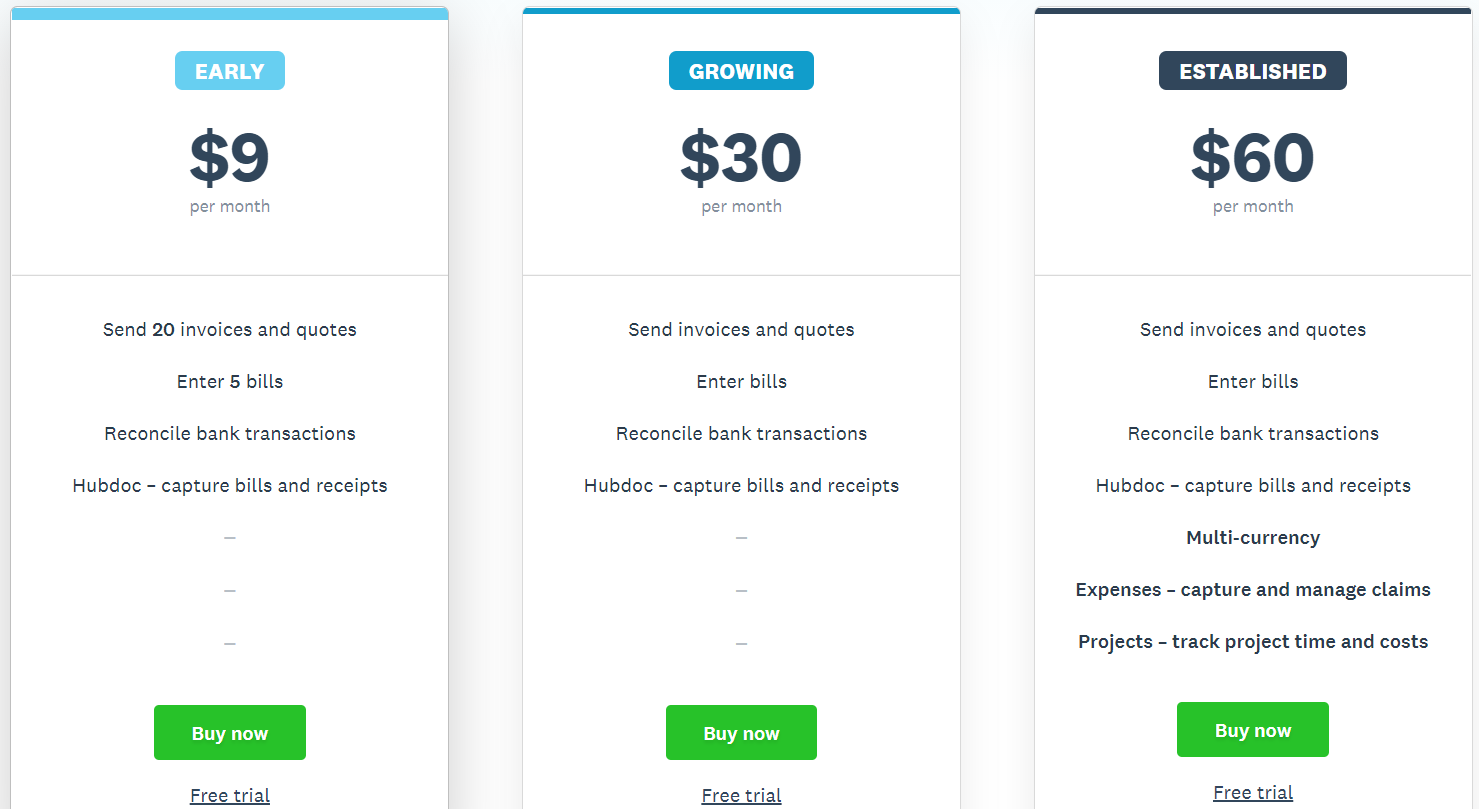 The Early and Growing plans have the same functionalities, but the Early plan is limited to sending 20 invoices and sending 5 bills per month. Note that these prices are each increasing by $2/month starting on December 14th, 2020.
These are the features available in all plans:
Send invoices and quotes – Xero lets you create personalized online invoices with your company logo, branding theme, and payment terms. You can also set up automated invoice reminders, repeating invoices, and allow your customers to pay right from the invoice with a debit or credit card or using their GoCardless or Stripe accounts.
Enter bills – You can add bills to Xero and schedule payments for individual or multiple bills, use a purchases dashboard for an overview of your bills and purchase orders and see which ones have due dates coming up, and email bills straight to your files inbox in Xero (yay, paperless!)
Reconcile bank transactions – Xero actually makes this fun, if you can believe it! You can connect your bank accounts, and Xero will import transactions daily, and based on history, Xero will suggest how you should code it. You can also set up rules, which I found to be very helpful with recurring expenses.
Hubdoc – capture bills and receipts – Hubdoc is a handy little app that integrates with Xero and captures bills and receipts for easy and paperless recordkeeping. They are captured via email, mobile app, desktop, or scanner, and stored in your files area in Xero. Hubdoc extracts information from each bill or receipt and categorizes the transactions so you can reconcile your bank transactions easily. No more keeping receipts in a shoebox!
Some additional features that are only available on the Established plan are:
Multi-currency – Xero makes it easy to convert foreign currency transactions into your currency and has 160 foreign exchange rates updated hourly. You can take a look at the gains and losses on your dashboard. Obviously, this is handy if you have an online business doing business in more than one currency.
Expenses – capture and manage claims – You and your staff can take photos of your receipts, and Xero Expenses will fill in the details. You can add, pay, and review outstanding claims and manage who can submit claims. This feature streamlines the expense reporting process and is great for businesses with many employees who have business expenses. This definitely isn't necessary if you're using your linked bank account for expenses, though.
Projects – track project time and costs – You can set up projects in Xero and compare them based on budgets, costs, staff time, and profitability. This is an excellent feature for projects that take several weeks or months, have progress invoicing, and several different people working on it. This was not necessary for my mom's business as projects (taking photos and editing) begin and end within a few days.
What I Like About Xero
1. Tutorial videos embedded in almost every area of Xero
At the top of the bank accounts page, there's a video to see how reconciling the transactions works in Xero. This is super helpful for people who don't want to go through a complete training before touching anything.

I found these videos and guides at the top of almost every area of Xero.
There's also an option to hide the videos once you've got it down. If you do want training, there's an area called Xero Learning where they offer free live webinars and recorded trainings in each area of Xero, like quotes and Invoices, inventory, and reporting. They also offer a Xero Advisor Certification, which I just finished to best serve clients and to participate in special live workshops like converting to Xero from a different software. Xero understands that there's a learning curve to bookkeeping, but they are doing everything they can not be a barrier.
2. Seamless Bank Reconciliation Process
This is cool stuff, seriously. I am a big fan of anything that makes my life easier. Xero nails it with bank reconciliations, which can otherwise be a time-consuming chore. You can link any bank accounts that you use for your business to Xero, and Xero will automatically upload the transactions daily. It has a matching process where it looks to match the transaction lines with transactions that are already in Xero. You can also create a bank rule for reoccurring transactions, such as our Canva subscription. I set a rule to assign a certain general ledger account number to it so that it will automatically get coded there when the transaction is uploaded from the bank. All I have to do is click "ok" to apply the rule and reconcile the line. Spending just a few minutes on the bank activity each morning is all you need.
I have seen in reviews that sometimes these bank feeds can be finicky, and people experience problems with transactions not coming through or the bank feed disconnecting at times. I have not experienced any issues, but it's worth noting.

3. Robust operational and financial reporting
When you first log in to Xero after getting set up, your first landing page is your Dashboard, which is a fully customizable area to see any information that could be important to you, like total cash in and out, tracking where your money is going, how your invoices and bills are looking or anything else you find important.
Besides your Dashboard reports, you also get helpful monthly reports such as an Aged Payables Summary (shows how timely you are paying bills) and an Aged Receivables Summary (shows how timely you are receiving money that people owe you). You can get your standard monthly and annual financial reports like the Balance Sheet, Income Statement, and Statement of Cash Flows. I counted a total of 62 reports that are available on the lowest plan, and there are also additional reports available to me as a Xero Advisor. Sure, you will probably never need all 62 reports (plus your own that you can build), but what if someday you're like, "Hey, I'd really love to see a list of expenses by contact" or "I wonder how my budget compares to actuals," there's a report for that. Every report I've come across can be exported to PDF, Excel, or Google Sheets. Unsurprisingly, the exports look beautiful.
What I Don't Like
1. Extra fees for payroll services
Xero doesn't have their own payroll processing service, but they partnered up with Gusto, a payroll processor that is quickly gaining traction in the small business world. They started in 2012 and now serve over 100,000 businesses. If you use Gusto via Xero, you will get your first two months free. After that, they offer 4 plans that start at $19/month plus $6/month per employee (a single state with no health insurance, 4-day direct deposit) and go up to $149/month plus $12/month per employee (multistate, time tracking, next-day direct deposit, and more robust HR features to basically be a stand-in for an HR department). For comparison, Quickbooks has its own payroll processor, and the lowest plan costs $22.50/month plus $4/month per employee but includes health insurance and 401k administration, and next-day direct deposit. However, word on the street (or Facebook groups for bookkeepers) is that Quickbooks Payroll has a lot of glitches and Gusto Payroll is the preferred payroll processor for small businesses.
2. Weird contacts database
Normally I see separate lists for suppliers and customers, but in Xero, all contacts get lumped together. You can't manually identify which is which, but Xero will automatically categorize them if a transaction is entered for them. It's not a big deal, but something I noticed when I was setting up my mom's business.
3. No phone customer service support
Full disclosure: I have not needed to use Xero customer support, so this is just from the word on the street (yes, those Facebook groups) and what I found in reviews. When I signed on to be a Xero Partner (basically a bookkeeper with Xero), they assigned me to my own support contact who lives in my city and has been very responsive the two times I emailed her with a question. However, for non-Partner users, I've heard that it's really difficult to get a specific question answered, especially if it's accounting-related and not something like "where do I find this report?".
They do not have phone support available, so you have to send in your question and request a call back or email response, and I've heard the responses aren't helpful or timely, if you even get a response at all. This could be a huge disadvantage to a small business owner without an accounting background who wants to do the bookkeeping themselves.
Xero Reviews Online
First up: Trust Pilot
Xero has over 2,500 reviews on Trust Pilot with an average rating of 4.1 out of 5.

Here are some of the reviews. It's interesting that most of the reviews address customer service, and it's pretty split on having great customer service and terrible customer service.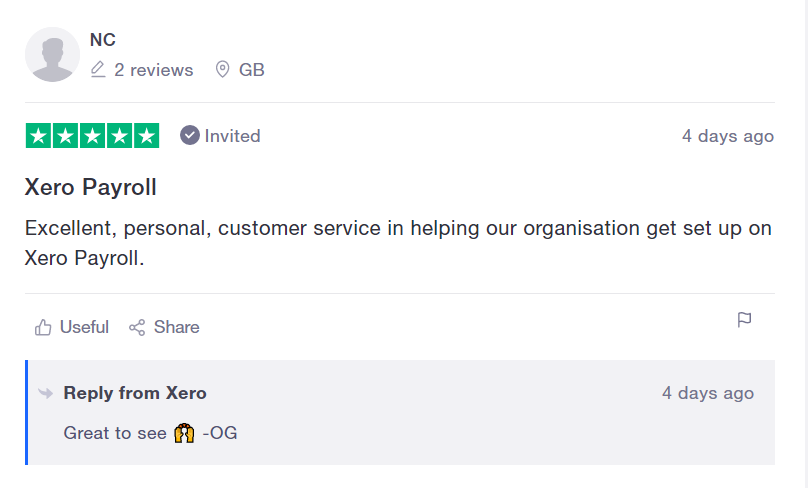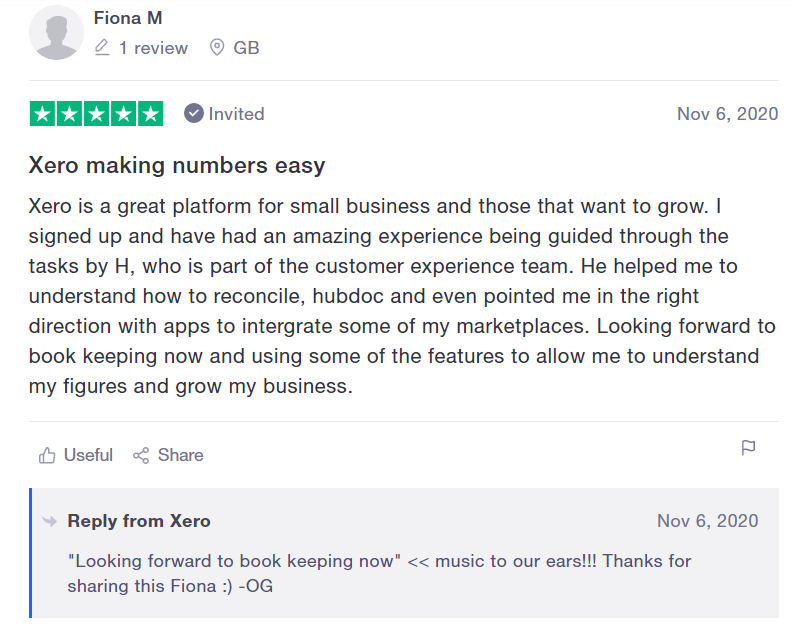 Now for the negative: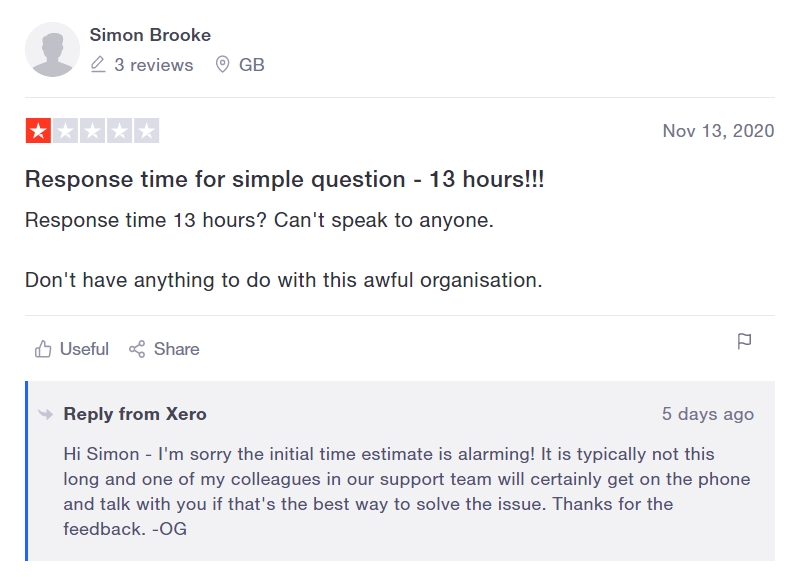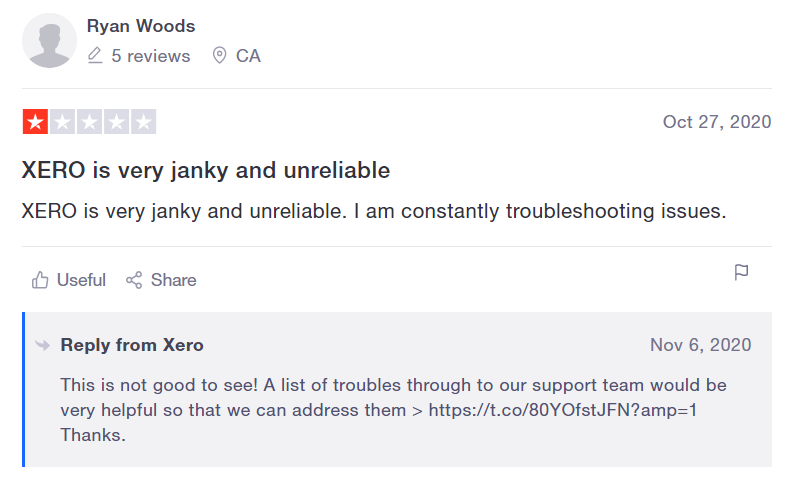 As you can see, Xero is very responsive on their positive and negative reviews. It shows that they care about issues people are having and are taking steps to address them.
Interestingly, I couldn't find any Xero reviews on BBB or Google. There are many business websites that have reviewed Xero, so here's a summary of what I found:
PCMag.com – Rating: 4 out of 5 (Excellent)
SoftwareAdvice.com – Rating: 4.31 out of 5 (FrontRunners)
MerchantMaverick.com – Rating: 4.5 out of 5
Capterra – Rating: 4.3 out of 5
TrustRadius.com – Rating: 8.6 out of 10
TechRadar.com – Rating: 4.5 out of 5
FinancesOnline.com – Rating: 9.5 out of 10
Overall, these are great reviews from reputable sources in the industry. I did do some of this research before bringing my mom's business onto Xero and, based on many of these reviews, decided to give it a go. You literally can't lose when all of these platforms offer free trials. I've been very happy with Xero for a service company, but I'd like to try it for a merchandising business as well to see how the inventory functionalities work.
Stay tuned for reviews of other accounting software programs along with a final comparison of each. Although similar, they all have idiosyncrasies that may work better or worse for your business.
Tagged with:
ENTREPRENEURSHIP
•
START YOUR BUSINESS TODAY